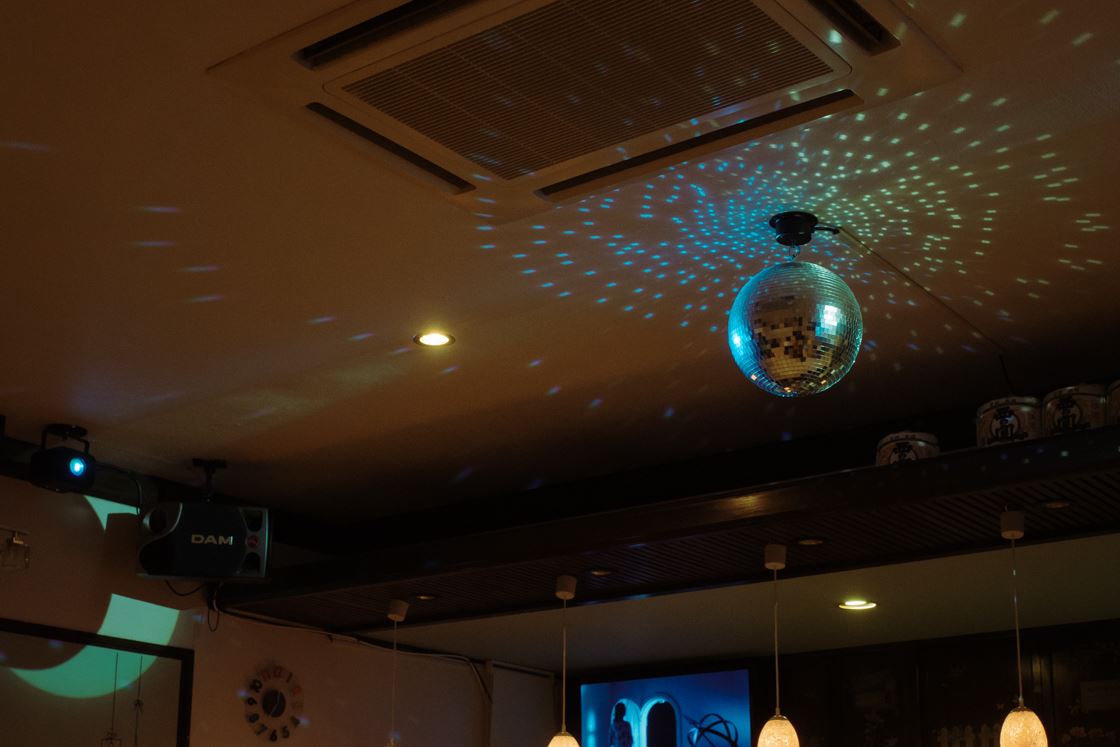 'Why am I in a hostess bar in Beppu?'

Here's the summary.

By the time the pandemic had died down and I was back in the local bar, the faces of the regulars behind the counter had changed a little. As I sat in the corner of the bar, looking around as if I were in a strange place, a lady came in. She sat down next to me and placed her order as if she had been here many times. One of the regulars called out to her. When I heard her name, I couldn't help but utter an 'ah'.

It was Ms. M. I'd heard that the surfer Nabe-chan (*), who often models for me when I'm in trouble, often brought her to this bar nowadays.

After a few conversations with her at the bar, the subject of blowfish came up. When my husband said that he had eaten blowfish liver in Oita, Ms. M said that there was a restaurant in Oita where you could eat blowfish at a reasonable price. We decided to go there, and the story returns to the beginning of this article.

Naturally, the regular members of the counter went to Oita together. I wanted to have fun with everyone, but I also wanted to take photos. It was an adult trip, so we weren't together all the time. I didn't want to limit their activities too much, and vice versa. Of course we would be drinking, so I wanted a camera with good image stabilisation. The GR was the best solution. I boarded the plane to Oita with a GR III and a GR IIIx in my bag.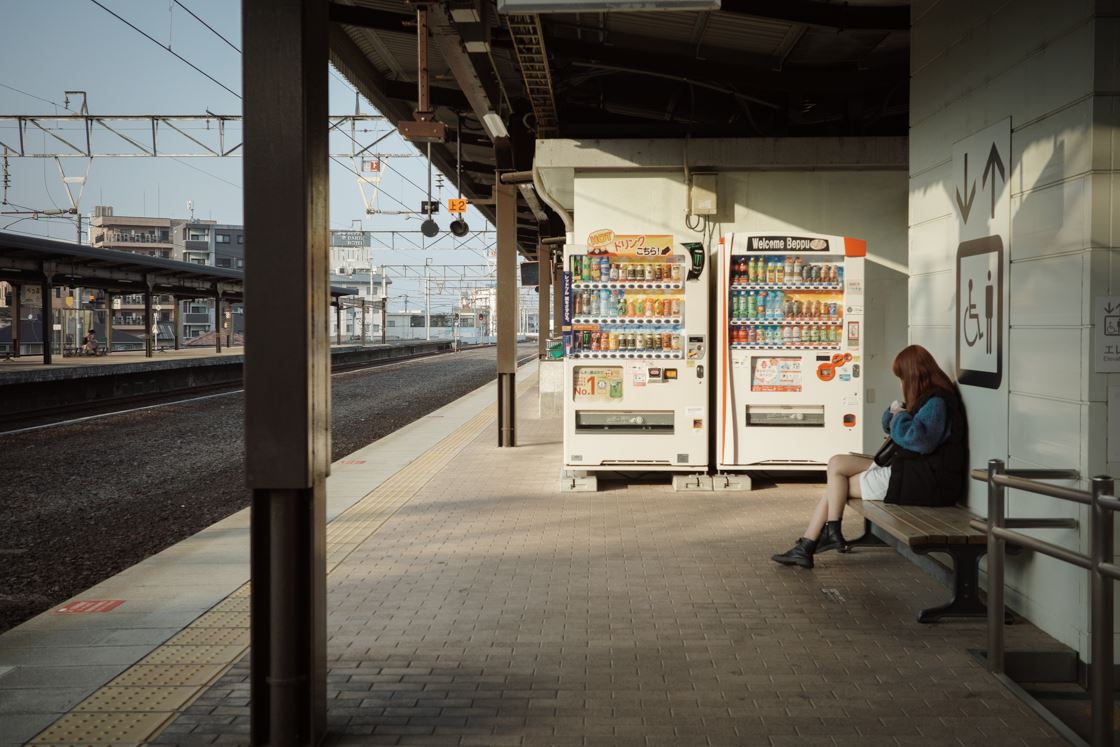 The next day, after eating a lot of blowfish the first night, was Beppu Night, organised by Ms. M. Arriving at Beppu Station, I was greeted by the distinctive "Beppu, Beppu" announcement and the faint smell of sulphur wafting through the air over the whole town. The door to the hostess bar opened. It was an adult pastime, an expedition to a faraway place with local drinking buddies, just to have a drink. The expressions on my friends' faces, captured by the GR to the tune of karaoke, were full of smiles.

Spring is the season of meetings and farewells. Ms. M, who has become a good friend of mine, will soon be moving elsewhere. Sake soon disappears, but the smiles captured by the GR and warm feelings from the expedition will remain forever. When those feelings seem to fade a little, I can always visit her.

The next morning I walked along the beach near the inn, my body still a little drunk. In the misty spring air I took pictures of a cat with a stern face, but after a while it turned away and disappeared into the park. My cat Kohana was waiting for me at home. It was time to return to the usual beach and pub.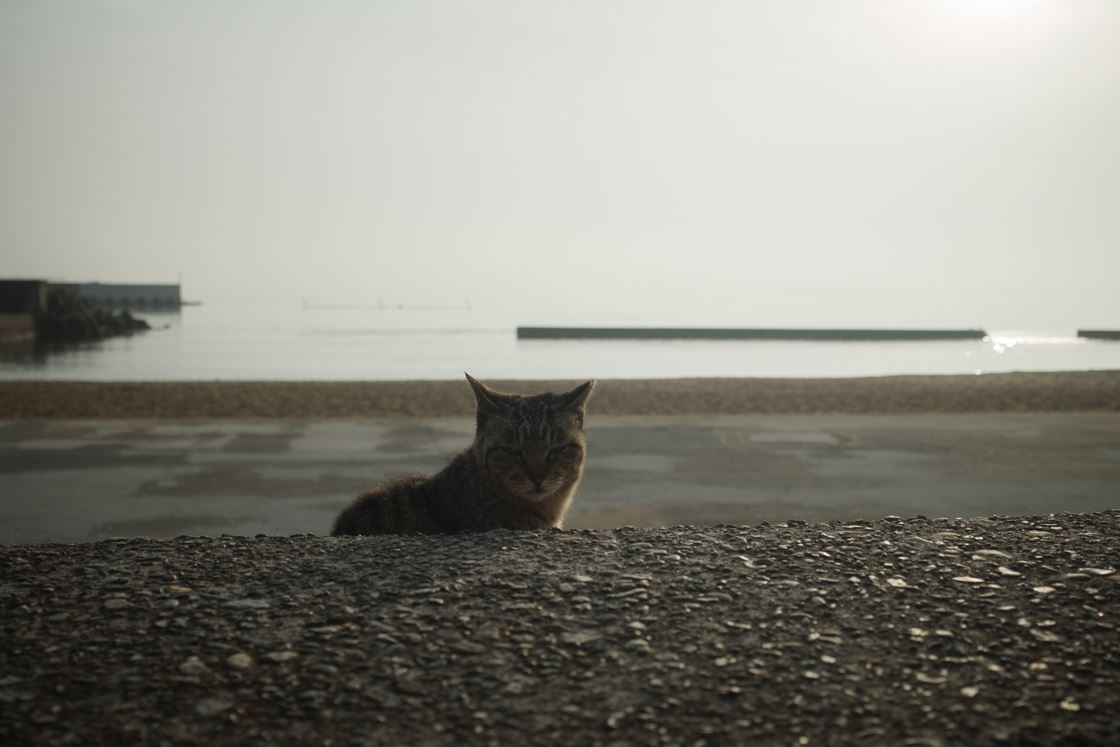 *Nabe-chan also appears in [SENSE] VOL.5 Daimon Mina.


Mina Daimon
Born in Yokohama, currently living in Chigasaki, Daimon became a photographer after winning the Ricoh RING CUBE public exhibition. In addition to being an artist, she collaborates with apparel brands, teaches courses and holds events sponsored by camera manufacturers and stores, and contributes articles to magazines and web magazines. Has held many solo and group exhibitions. Her representative works include "Honjitsu no hakoniwa (Today's Sandbox)" and "Hama", as well as the photobook "Hama" (Akaaka Art Publishing Inc).
www.minadaimon.com