Why do I feel like eating croquette soba noodles regularly? They are made of not-so-freshly boiled noodles, strongly seasoned soup, and a cold croquette sitting in the center.

To begin with, I am not very good at meals that combine different textures. For example, beans and chestnuts in bean and chestnut rice, and leeks in soba noodles must be sliced as lightly as possible and slightly moistened to make them feel cohesive in the mouth. The other day, I was thinking of the expression "shitazawari (touch of tongue)", while slurping my zaru soba noodles in the morning, I removed the thickly chopped green leeks from the soba source cup, as a matter of fact.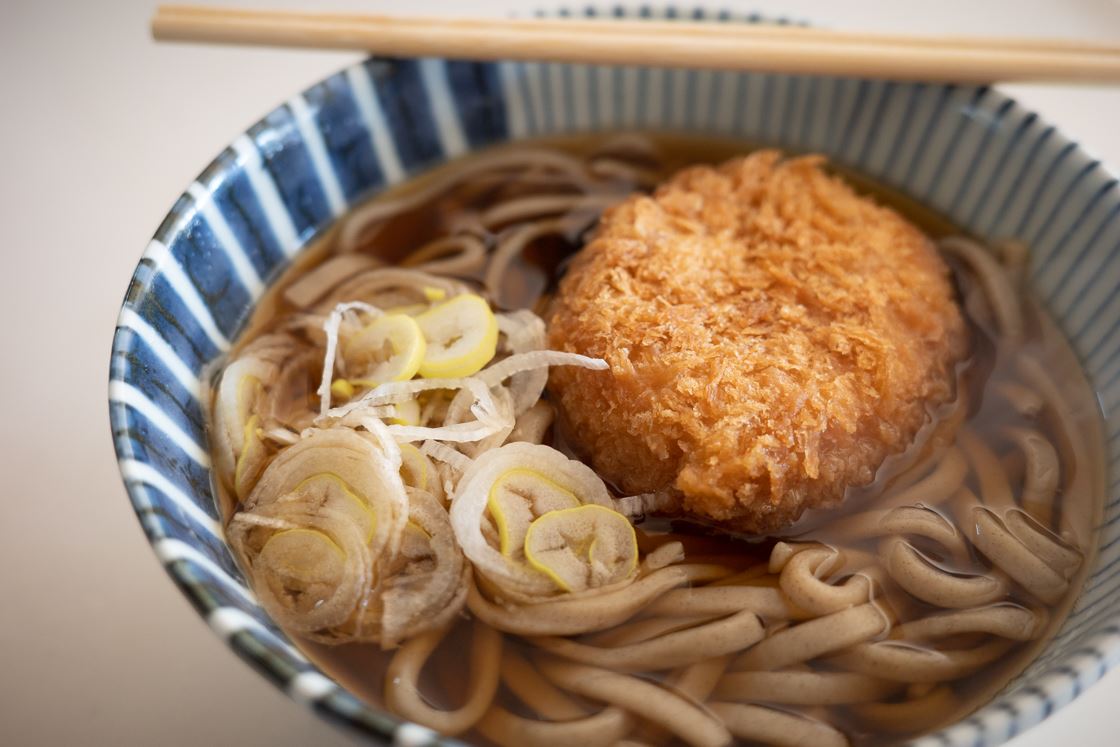 Let's leave aside the French origin of croquettes and home-made croquettes for dinner. For me, croquettes are a snack. Soba is also a fast food originally. Croquette soba is a combination of these two together: the aroma of unredeemable soup and soy sauce, and the nostalgia-inducing form of a croquette. Moreover, it is very filling. These are the reasons why croquette soba is so appealing.

When was the first time I ate croquette soba? It was only in the last 10 years that I was able to go to bars or beef bowl restaurants filled with smoke and dirty old guys (oops). Eating soba noodles at a standing noodle shop on a station platform was the last thing I would ever do. One day when I was living in Tokyo, I was so hungry on my way to Kamakura for a photo shoot that my husband took me to a standing noodle shop on the platform of Ofuna station to try Croquette Soba for the first time, although I was a bit reluctant.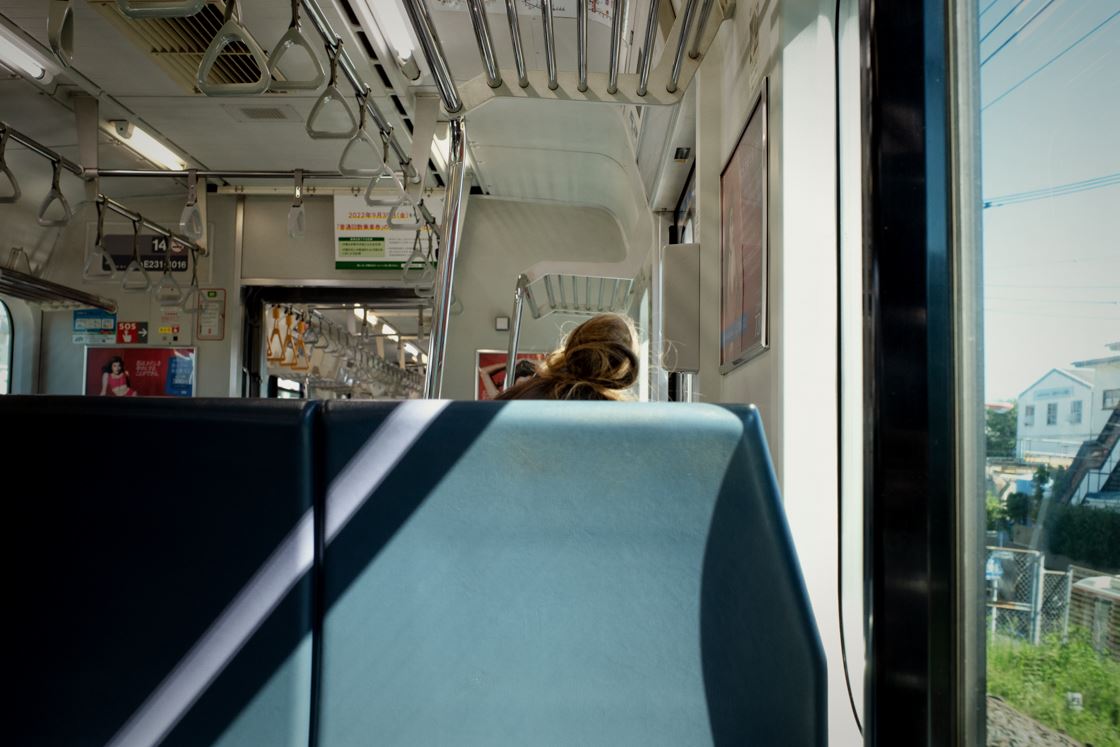 As I cross the Tama River from Kanagawa Prefecture and enter the Yamanote Line area, I can smell the aroma of soba noodle soup whenever the train doors open. Although it is not particularly delicious, the aroma is what draws me to noodle shops. It takes less than a minute to be called to the table after handing in the ticket. I take my bowl of noodles, sprinkle spices on them, and take out my GR to take a picture. The GR starts up within 0.8 seconds after I turn it on. It is an overwhelming win for the GR. I am writing something strange, maybe because I am hungry now.

I take some snapshots at the station in addition to eating croquette soba noodles. It depends on the person whether it is better to take pictures when the stomach is full or when it is empty, but I prefer the former by far. I am sure that croquette soba, which I can eat immediately when I am hungry, and the GR, which I can shoot immediately when I feel like taking a picture, are a perfect match.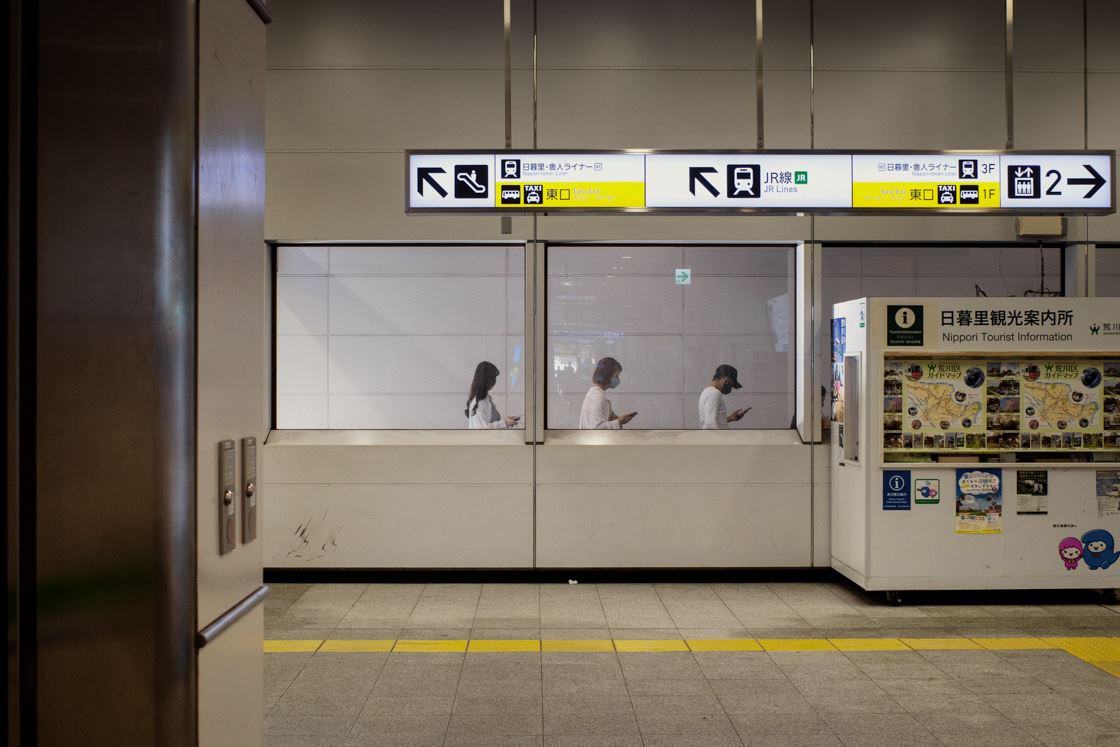 Mina Daimon
Born in Yokohama, currently living in Chigasaki, Daimon became a photographer after winning the Ricoh RING CUBE public exhibition. In addition to being an artist, she collaborates with apparel brands, teaches courses and holds events sponsored by camera manufacturers and stores, and contributes articles to magazines and web magazines. Has held many solo and group exhibitions. Her representative works include "Honjitsu no hakoniwa (Today's Sandbox)" and "Hama", as well as the photobook "Hama" (Akaaka Art Publishing Inc).
www.minadaimon.com