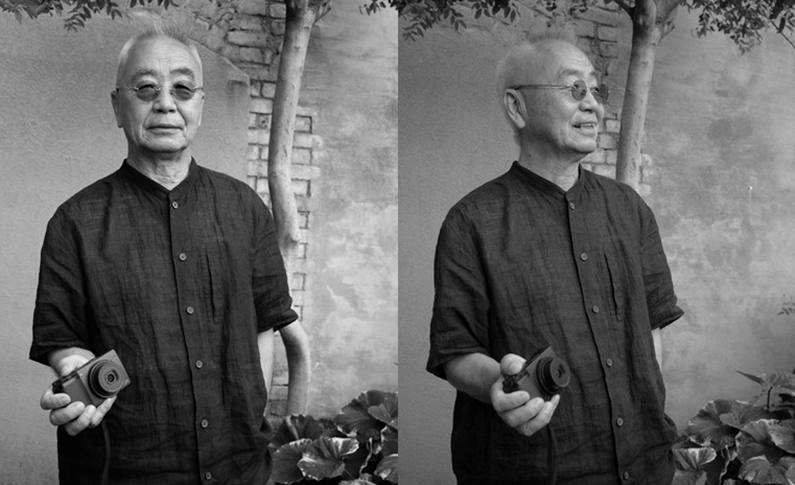 The third special content is by the writer and photographer Shinya Fujiwara. Enjoy the relive of his walking in Paris with the GR.
Hide Camera

In Han Dynasty of China, there lived an invincible master of bow. He had no one to fight against but heard that there was a master of bow in the high mountain of the west. So he took a trip with his bow.

He was disappointed because the man was very old with grey hair but decided to fight. When the match started, however, the old man had no bow in his hand.

He wondered but shot arrows at flying birds across the sky and dropped seven out of ten. When it came to the old man's turn, he still had nothing in his hand and just looked at the sky. When a bird passed the sky, he exhaled his breath and gazed at the bird. In a fraction of a second, the bird fell. Ten out of ten. The master marveled.

He realized that the true master of bow is the one without bow. So he went to the mountain and started training.

I don't want to hang my camera on my shoulder. Needless to say, I have never had a tripod or camera box. When I go out on a daily basis, I hardly have a camera.

In that sense, smartphones are great because the mobile phone is an absolute necessity and I keep it in my pocket. As the camera function of smartphones has been improved recently, when you encounter something you want to photograph, all you need to do is to take it out of your pocket. Sometimes I am so lazy that I use a smartphone photo for a two-page picture of a magazine. I'm getting closer to the bow master of Han Dynasty (laughs).

But smartphones have their limitations. Even with all those dual lenses and photo development apps, smartphone photos are smartphone photos after all.

Then, it's the GR's turn.

Having used various GR series cameras, I feel this "bow" has come close to the state of no bow. What's great about it is I can keep it the chest pocket of my shirt. My style has been the same- taking it out of the left chest pocket with my right hand and release the shutter right away. This little boy pleases me with his rich images.

What I share with you here are my street photos in Paris late last year. Moulin Rouge street in Montmartre reminds me of Hollywood Street in Los Angeles, where a lot of crazy looking people go back and forth.

I was fascinated by the scene that did not look like Paris and pressed the shutter very fast. No one noticed. What was required was not only the photographer's attitude to be discreet but also the hide camera in the hand namely GR. In other words, I had almost no bow in my hand then.

Having no bow has another meaning- photograph in which you don't feel the existence of a camera.

Shinya Fujiwara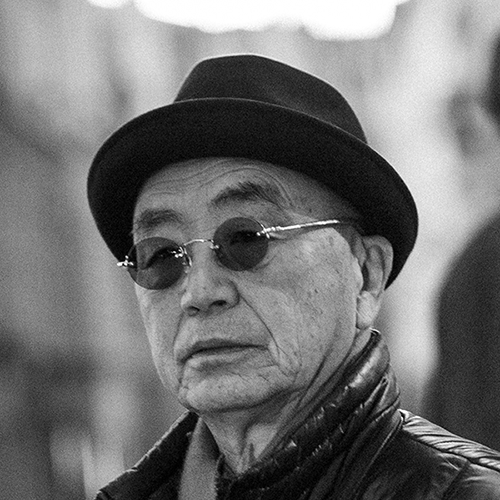 Shinya Fujiwara

Profile
Born in Moji Ward, Kitakyushu City in 1944.
Dropped out from Department of Oil Painting, Faculty of Fine Arts, Tokyo University of the Arts. He has mutually fused his photographs and words, and his works under the theme of travel, life and death have deeply influenced young people with the overwhelming power. His first book "indo horo (Wandering in India)" in 1972 became the bible of young people of the time. Fujiwara won the 3rd Kimura Ihei Award in 1977 for "shoyo yuki" and other works. Winner of the 23rd Mainichi Art Award in 1981 for "zen toyo kaido (All Oriental Streets)".
He is a photographer and writer who sees the world keenly and keeps producing photos and words that always draw public attention. He is a painter and in recent years a calligrapher as well.

indo horo (Wandering in India) in 1972, seizo horo (Wandering in Tibet) in 1977, shichisai mugen (1978), shoyo yuki in 1978, yume tsurezure in 1979, zen toyo kaido (All Oriental Streets) in 1981, tokyo hyoryu (Tokyo Drifting) in 1983, Memento Mori in 1983, chichi no umi (Sea of Milk) in 1986, amerikan ruretto (American Roulette) in 1990, shonen no minato (Port of Juveniles) in 1992, nanto kaido okinawa (South Island Highway Okinawa) in 1993, dyinguru no irie (Dingle Cove) in 1998, sennen shojo (Thousand-Year Girl) in 1999, zokkai fuji (Secular World Fuji) 2000, bari no shizuku (Drops in Bali) in 2000, tetsurin (Iron Ring) in 2000, hanaotome in 2003, Shibuya in 2006, shinuna ikiro (Do Not Die, Live) in 2010, shogyo mujo in 2011, Okinoshima in 2017

http://www.fujiwarashinya.com


★The photos can be viewed on GRist page.