Hi. This is KYO.

It's been about two and a half years.
I am grateful I can greet you again in a site like this.

At the beginning of this year, we were called to gather at our office near Shin-Yokohama station.
I was to meet with friends I had not seen for a while.

As I walked to the conference room, I had a strange sense of deja vu.
All of a sudden the memory revived when I entered.
It was the same meeting room where we had our kick-off meeting of the GR BLOG back in 2005, when the first GR DIGITAL was about to be released.

By adding some new faces to the previous members, the meeting went very livelily.



Let me tell you what I am up to.

I was away from Tokyo for about 5 years, and came back to the Kanto area two years ago.

My GR II is always in my everyday commuter bag as before.
I change it to my holiday bag on weekend, and change it again to the commuting bag on Sunday. It's been my routine.

The joy of taking photos never diminishes.


The performance of smartphone cameras has recently gone up and there are more cases where the GR can be replaced with them.

But when I come across some nice scenes, although I set my smartphone in front of them once, I do not shoot and change it to the GR instead. Only the GR can change the ISO, WB, image settings as well as exposure with one hand while keeping the composition, calling the appropriate setting from My Settings.

Also, when I'm strongly motivated for street, there are certain moments that only the GR can capture. I am so familiar with it that I feel like it's the extension of my body from the grip to the operation system.

There are more things other cameras can do, the GR still is something you can't replace.

On September 8, 2015, in my last entry on the previous GR BLOG, I said in the end "hope to see you somewhere on street again."

Ten years has passed, and the old department store in Ginza has been transformed to a new landmark.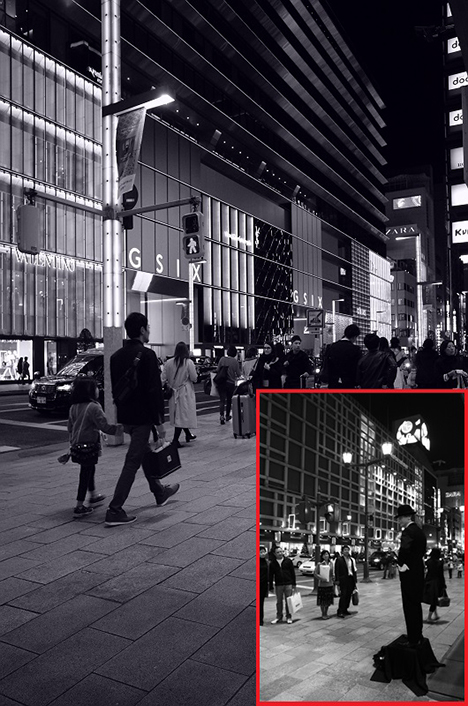 Once again.
I'm really happy to have the opportunity to "see you somewhere on street" again. Looking forward to hearing from you.

(KYO)